Welcome to the first 100% on chain decentralized storage Dapp for biomedical and general purpose data (such as text, images, audio and video) providing you with Identity, Timestamping, Content and Immutability (ITCI) for your business.
How to Use the Dapp
First, please ensure you have metamask installed and are connected to Binance Smart Chain network as we developed the smart contract on this chain to save on gas cost for the Dapp users (once ETH 2.0 hits, we'll develop an Etherum version as well). If you need instructions how to do it, please follow these simple steps: Click the drop down menu (circle icon on the top right), go to "Setting", "Networks", then "Add Network". Enter the following custom network details: Network name (Binance Smart Chain), RPC URL (https://bsc-dataseed.binance.org/), ChainID (56), Symbol (BNB), Block Explorer (https://bscscan.com). Once you load the page you should see a metamask pop up asking you to connect your account. If you do not see it or have issues connecting, try refresh the page and then try again.
Instructions for Storing Text
Simply paste the text you want to store in the form, press the "RECORD DATA TO THE BLOCKCHAIN" button, and sign the transaction. If nothing happens after you press the button, refresh the page and try again, it will work. Now, go check in the explorer your transaction and copy the transaction hash (this will provide a time stamp and a permanent link to the data uploaded on the blockchain).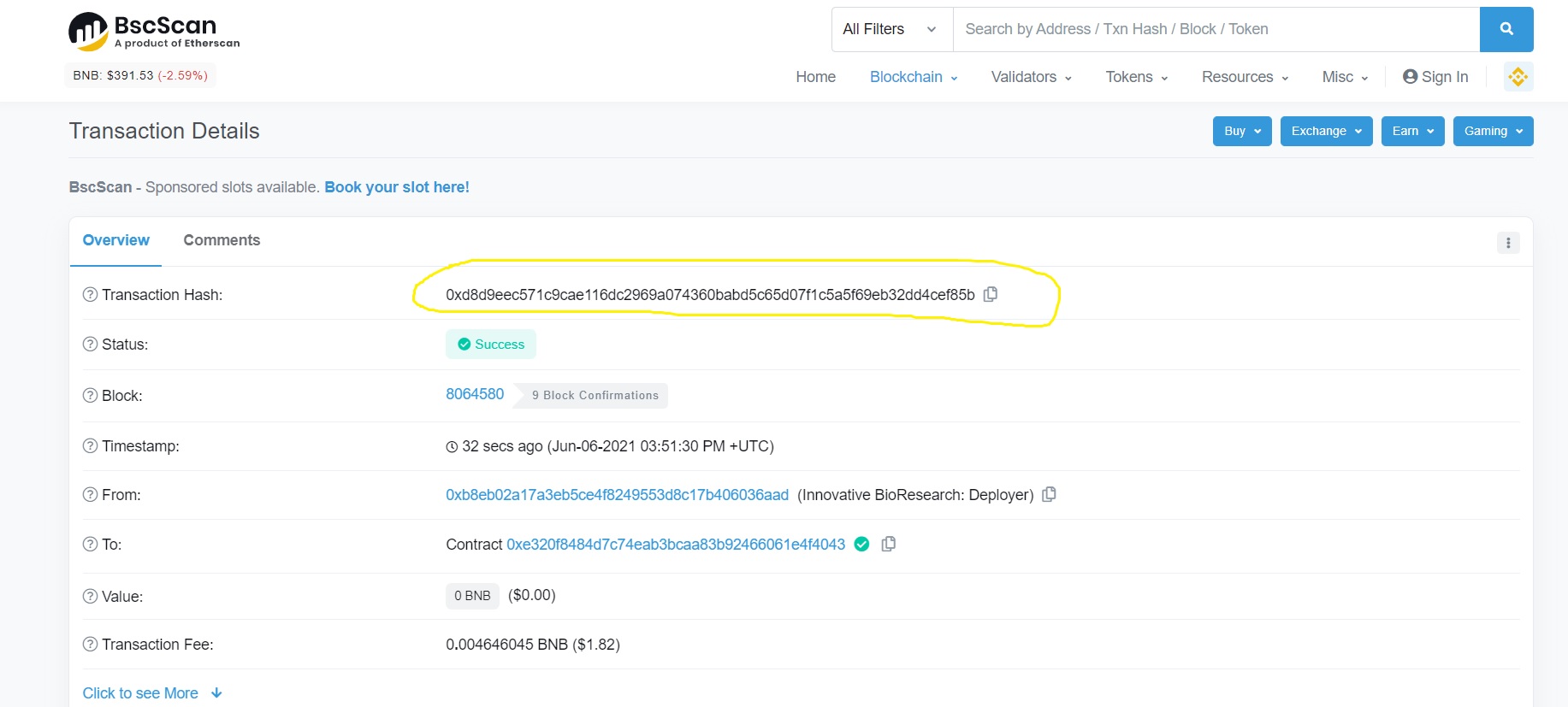 Go on the transaction page, click on "Click to see More", "View input as", select "UTF-8", and in the "Input Data:" section you will be able to see the text you permanently stored on the blockchain.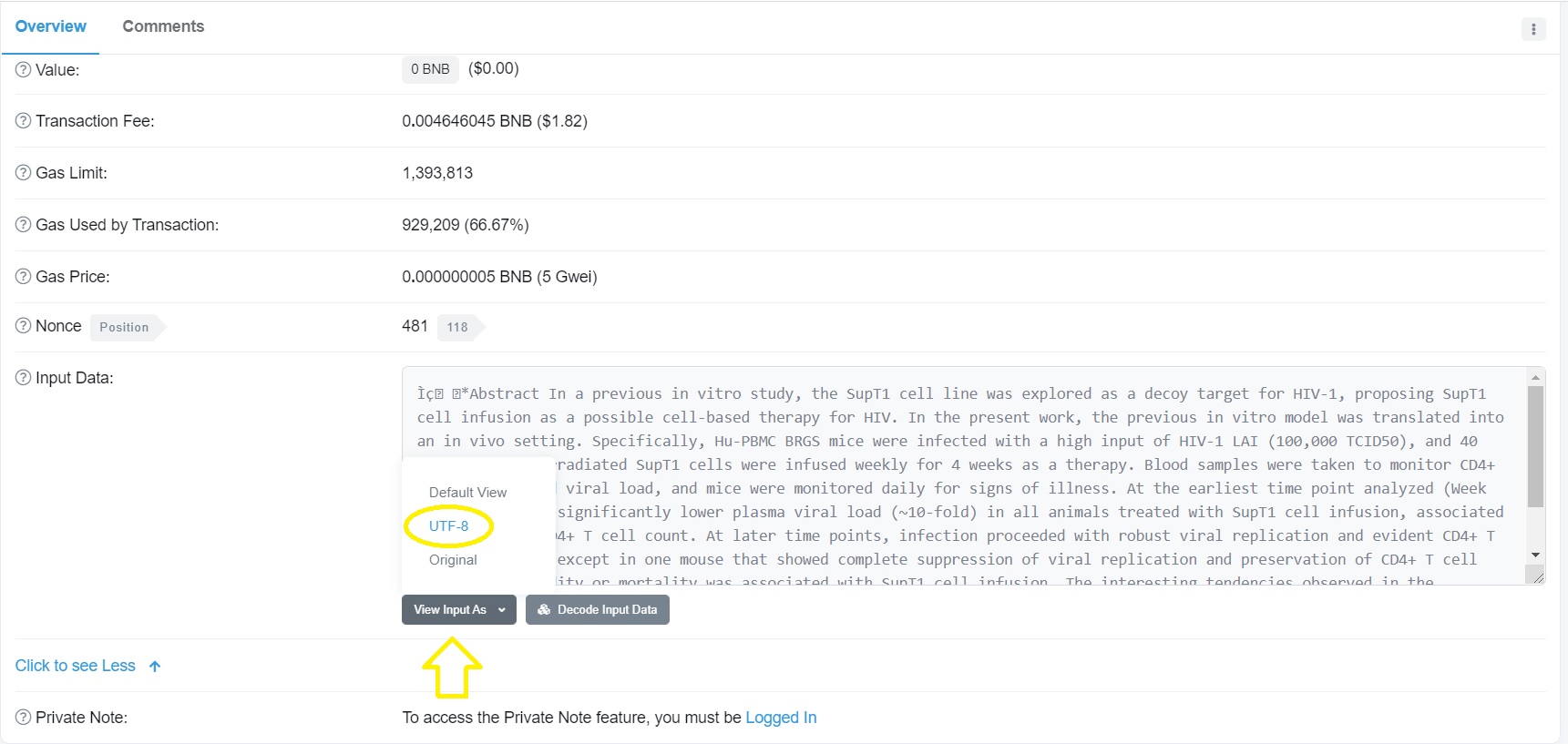 Instructions for storing Images, Audio, Video and Potentially any Possible File Format
Simply convert your file to "Base 64" text based format and store it on the database. There may be some limits for very large files, but thus far we have been able to store full images from scientififc publications just fine. Larger files can be uploaded as separate chunks, however. You can then convert back the Base64 text to the original file format. Below some useful links to convert for free your files to Base64;
CONVERT IMAGES TO BASE64
CONVERT AUDIO TO BASE64
CONVERT VIDEO TO BASE64
How Can I Use the INNBC Decentralized Database Dapp?
One of the greatest features of the blockchain is immutability. Storing data on the blockchain provides you with Identity, Timestamping, Content and Immutability (ITCI). Below a few examples of the incredibly wide range of applications of INNBC Dapp;
Application for Science
Identity and Timestamping will protect the intellectual property of your data, so you can confidently share the data using the blockchain as a pre print server, while the Immutability will ensure the data will be permanently stored, never altered, nor lost.
Application for Commercial Activities
Timestamping will allow you to record any relevant event for your business. Say for instance that you sold a product to a customer, you can record the event to the blockchain and include the tx as a QR code on the product itself as a proof of product authenticity and to keep track of the item.
Application for Entertainment and Art industry
Identity and Timestamping will protect the intellectual property of your work, providing you with proof of authorship. This is especially important for NFTs where you could store your digital images directly on chain adding author information, instead than on a centralized server as it currently happens. You could store a lower resolution version of the image or you could store it in different chunks in case of very large images.
Application for Decentralized Messaging, News Releases, and Social Networking
Decentralization and Immutability provide a censorship resistant environment for posting content unlike traditional centralized platforms that can be controlled by the issuer (e.g., Twitter, Facebook) and that are more prone to failture due to running on centrilized servers.